Jobs and Careers at UTC Research Center
At the United Technologies Research Center, you'll spend every day designing innovative solutions to some of the world's biggest challenges. No wonder our people find their careers so rewarding.
We've been curious about making things better—for industries, people and the planet—since our founding in 1929. Addressing the challenges that come from increasing levels of urbanization and globalization—such as the needs for greater efficiency, integration, and performance in modern technologies—serve as the driving force behind our explorations.
As such, we focus on the big picture, investigating the "what ifs" of advanced propulsion and power, energy storage, building efficiency, autonomy and human-machine interaction, and revolutionary aircraft systems. Our ideas are designed for application across the entire UTC organization, culminating in products, technologies and systems that impact the world.
Working with a diverse team that includes some of the world's best scientific and engineering talent, you'll find yourself surrounded by individuals who are as inspirational as they are passionate. 93 percent of our current technical staff holding advanced degrees (76 percent having earned a doctorate) and we've got several dozen rocket scientists based here too. It's the perfect environment to produce some of your best work – and enjoy all the benefits that it brings.
Award-winning innovation starts here.
Discover why our breakthrough eco-friendly technologies are receiving industry recognition.
More
85 years old – and still as curious as ever.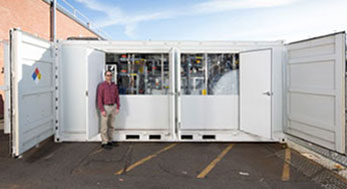 Find out more about our recent 85th anniversary, and how we've grown over the years.
More